Gilbert American Flyer Number 285 Locomotive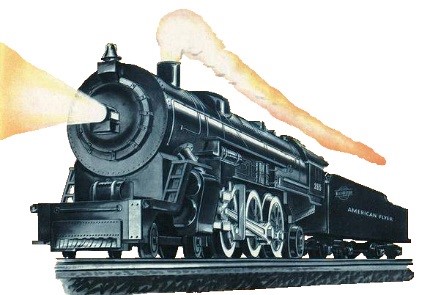 Stats:
Cataloged: 1952
Pacific type steam locomotive: Wheel arrangement 4-6-2
Prototype: USRA Pacific—curiously, none were owned by the Chicago North Western
Road Name: Chicago North Western
Materials and Features: Boiler Shell is one-piece plastic with a link coupler. The tender is made of sheet metal and contains the reverse unit and a black weight.
The locomotive is equipped with smoke and choo-choo, and the tender includes the speaker for the whistle.
History
The C&NW number 285 continues the series using this boiler shell. It is well-proportioned in appearance and operates reliably. This version in the series includes a link coupler and a sheet metal tender.
In 1952, it came with one cataloged passenger set and was listed as available for separate sale.
Other numbers on this same locomotive body include 282, 283, 287 and 289. The 285 is equipped with the air chime whistle, whereas the 287 is a low-end version that lacks smoke and choo-choo. The 289 is an uncataloged version that lacks smoke and choo-choo, but it did come equipped with the whistle.
Gilbert provided service and parts information in Form 1813.