Welcome to the Train Doctor's Library
Do you have a long ride ahead and are looking for some great information and stories about all of your favorite trains and models? Well then alllllll aboard! You've arrived at the right station. Shovel some coal in the firebox and get comfy in the cab! It's time to change gears for the journey ahead.
There have been a large number of Gilbert American Flyer Books produced over the year. We've hand picked several informative and in our opinion, interesting books and other pieces of content that we believe provide the best history, description, pricing information, etc. for American Flyer Collectors. As always, your feedback is welcome and if you think there's anything missing from this list, please send us a message and let us know!
Index
---
1. Fun & Thrills with American Flyer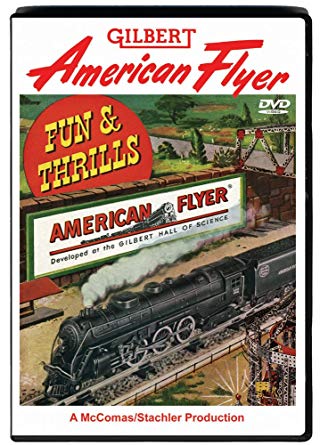 "A delightful assemblage of video clips surrounding the once-noble line of A. C. Gilbert Company's "American Flyer" line of 2-rail, electricmodel trains. The DVD includes footage of actual American Flyer S-gauge operations with some nostalgic views of many once-common engines, rolling stock, operating cars, and accessories. For both the American Flyer junkie and the uninitiated, this DVD is worth its reasonable price. The footage is of varying quality and operational drama, yet there is enough on this DVD to jog both the memory and the desire to operate/collect these scale toy train miniature masterpieces yet once again. American Flyer DVD"
-Amazon review
---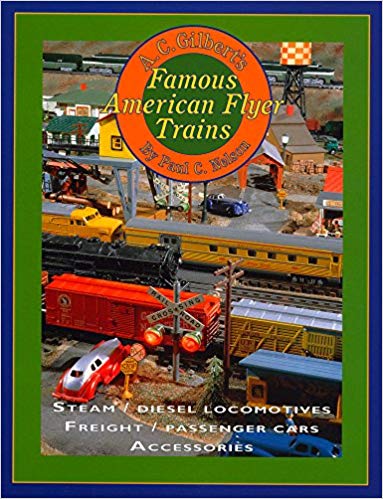 2. A.C. Gilbert's Famous American Flyer Trains
Of all the toys a boy could want, a Gilbert American Flyer train has always been high on the list. Gilbert's American Flyer two-rail trains looked real, featured smoke and choo-choo, horns and whistles, operating lights, realistic-looking couplers and bright paint schemes that matched prototype railroads. Climb aboard with us as we discover these fascinating trains made between 1946 and 1966, which have provided a long-lasting legacy from The A.C. Gilbert Company. Includes handy alphabetical and numerical indexes. An invaluable book worth every penny!
---
3. Standard Catalog of American Flyer Trains
A bargain buy when first introduced as Chicago Flyer, American Flyer trains rose to premier toy train status in the last half of the 20th century, and maintain the second spot today! The company's claim to fame, the S gauge train, is supported by the wide gauge and prewar HO and O gauge trains, in collector popularity, and this one-of-a-kind guide covers all three groups in extensive detail.
The most comprehensive overview of the American Flyer line, this book follows the winning format of the Standard Catalog line of toy train reference. It is the only full-color guide on the subject, serving the needs of toy train collectors who rely on detailed color photos to accurately identify trains.
---
4. American Flyer Trains Pocket Price Guide 1946-2019 (Greenberg's Guides)
This essential pocket-sized guide provides accurate, current market values for American Flyer S gauge trains and accessories manufactured by A.C. Gilbert and Lionel. This functional easy-to-read volume is published every other year and contains ready-to-run S gauge trains from contemporary manufacturers like American Modelers and MTH. It remains a valuable and reliable source of pricing information.
---
5. Gilbert American Flyer S Gauge Repair and Operating Guide COLOR
This is a new 4th Edition of the book now in full color.
Since Tom Barker published his first book on Gilbert American Flyer S Gauge operation and repair over 45 years ago, thousands of loyal Flyer Fans have used this book to preserve these fantastic testimonials to American ingenuity and manufacturing prowess. While these trains are 60 to 70 years old, they are still going strong because of a dedicated group devoted to their preservation. Tom hopes that his research and writing has helped in some small way to help these thousands of AF fans in their efforts. Now, in a giant single volume, Tom covers the fundamental aspects of problem diagnosis and repair. He lists the basic tools that need to be in your roundhouse to effectively keep your American Flyer S Gauge trains on the right track. This is the authoritative book on Gilbert AF Train repair. Not just a manual of parts, but a guide on how to actually take things apart and put them back together in excellent working order.
---
6. Complete Service Manual for American Flyer Trains
This valuable reference book is a one volume encyclopedia with definite appeal for all model train fans. From the pages of the A.C. Gilbert service manual come schematic and wiring diagrams, a description of each item, repair and operating instructions for all items, a parts list and a master number index. Additionally, sheets and booklets that accompany engines, operating cars and accessories are included. This hardcover book will stand up to a lifetime of use.
---
7. Man Who Lives in Paradise:
Autobiography of A. C. Gilbert with Marshall McClintock
Share in the exciting adventures of A.C. Gilbert, the inventive genius behind AF trains and Erector Sets. This autobiography reads like an exciting adventure tale, because Gilbert led a remarkable life. Hardbound, 388 pages, 5¼ x 8½".
---
8. A.C. Gilbert's Heritage: A Collection of Rare American Flyer Articles and Photos
The book A.C. Gilbert's Heritage is being reprinted after a 33-year hiatus. The 164-page 8 ½ x 11 inches softcover perfect bound book features a collection of informative American Flyer/Erector articles and photos including: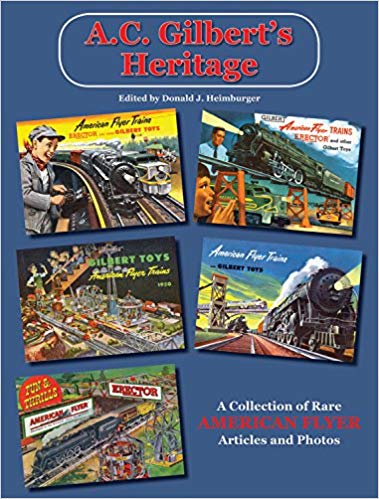 -Gilbert family history
-Illuminating interviews with Sales Manager Maury Romer
-Gilbert Gallery of photos with one-of-a-kind items and mockup train models…have you ever seen a Gilbert anti-aircraft gun on a flatcar or an Erector dirigible?
-See Gilbert price list from 1951 (65 years ago!)
-Gilbert advertising artwork
-Photos of the Chicago Gilbert Hall of Science
-Complete 1947 to 1965 highlight descriptions of American Flyer trains and accessories
-Rare AF Circus Sets
-Gilbert s outside suppliers: Colber, Mini-Craft, Bachmann
-1956 Gilbert s colorful comic books
-AF dealer displays, signage to complete layouts
-Those fascinating Erector Sets
-See how the Gilbert factory was laid out – The intense WWII work at Gilbert
---
9. Greenberg's Guide to American Flyer S Gauge
Volume three of a three volume set. If you collect, operate or just admire A.C. Gilbert's S gauge American Flyer trains, this is one of the best references available. A bit dated now, however; the bulk of the information is timeless and seemingly not readily available elsewhere.
-Amazon Review
---
10. Greenberg's American Flyer Factory Manual and Consumer Instruction Sheets
This is basic as it shows reduced size actual reproductions of the original factory sheets issued by A.C. Gilbert, New Haven, Conn–critical for AF enthusiasts, but out-of-print. My copy through Amazon.com is in very good/excellent. The outside tops and ends of pages were a bit darkened to otherwise make it mint.
---

11. Greenberg's Guide to American Flyer S Gauge:
Motive Power and Rolling Stock, Volume 1
---
12. Greenberg's Guide to American Flyer S Gauge: Volume 2
---

13. Greenberg's Guide to American Flyer S Gauge:
Volume 3 – Sets
---
14.Gilbert/American Flyer HO 1938-1963
The definitive collectors guide to Gilbert/American Flyer HO model trains as sold by the AC Gilbert Company from 1938 to 1963. Contains a history of the production of HO scale trains, a description of accessories, rolling stock, locomotives, lists of items sold as sets and other information of general interest. Includes 300 plus pictures and diagrams. Includes select instruction sheets.