Gilbert American Flyer Number 295 Locomotive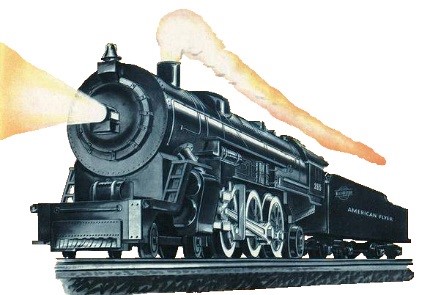 Stats:
Cataloged: 1951
Pacific type steam locomotive: Wheel arrangement 4-6-2
Prototype: New Haven Railroad Pacific
Road Name: American Flyer
Materials and Features: Boiler Shell is one-piece die cast metal. The sheet metal tender contains the reverse unit and is equipped with a link coupler.
This is a locomotive with smoke, choo-choo, and the Electronic Air Chime whistle.
History
The New Haven number 295 continues the series using this boiler shell. It is well-proportioned in appearance and operates reliably. This version in the series includes a link coupler and a sheet metal tender shell.
In 1951, it came in passenger set number 5103WT and was available for separate sale.
Other numbers on this same locomotive body include 290, 293 and 296. The 295 and 296 are equipped with the air chime whistle, whereas the 290 and 293 are full featured locomotives with smoke and choo-choo, although they lack the whistle.
Gilbert provided service and parts information for the 295 with Form 1813.