American Flyer Crossing Gate 23601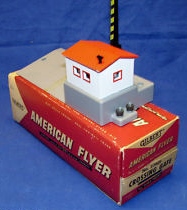 Conflicting directions were at work in the Gilbert American Flyer engineering department in the late 1950's. The traditional selling points for American Flyer trains were two rail track and scale realism. There was a market survey post card packed in train sets in the mid 1950's and it indicated that most purchase decisions were made based upon price and the attractiveness of the packaging. The sales for the 1958 year were disappointing adding to the pressure on the engineering department to cut costs. One of the results of these pressures is the American Flyer Accessory 23601 Crossing Gate produced from 1959 to 1962.
The bell function is gone as is the pedestrian gate. The entire unit is now made of plastic and a more realistic looking hut has replaced the sheet metal hut in use since the 1930's. However the automatic activation by track trip has been eliminated and replace with a push button requiring the user to manually activate the crossing gate as the train approached.The lighted lantern is also gone. Interestingly the 23601 Crossing Gate is now set up for right hand road driving.

Contents in red, black and white box. Crossing Gate, control button, wires, screws, instructions.