American Flyer Crossing Gate 23602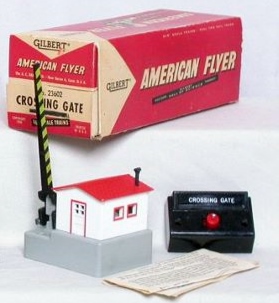 The Gilbert American Flyer 23602 Crossing Gate has continuing changes in the 1963-64 time period. Early units are essentially the 23601 Crossing Gate in boxes numbered 23602. As inventory was used up, the newly produced units of the American Flyer Accessory 23602 Crossing Gate had additional cost cutting in that the roadway portion of the base was eliminated. Manual activation with a push button continued.
Additional reasoning for the elimination of the roadway portion of the base might have been the ability to use the non roadway 23602 Crossing Gates with the re railer/road crossing available for the standard track system. Also the Pike Master track in this time period has a much lower profile so the roadway would launch the vehicular traffic about two feet above the tops of the Pike Master rails.
Contents in red, black and white box. Crossing Gate, control button, wires, screws, instructions.
From 1965 to 66 The All Aboard railroad system did not have a crossing gate accessory. All of the grade crossings were signed with plastic non operating cross buck signals.