American Flyer Crossing Gate 592
The 592 Crossing gate came with a silver or white walkway and roadway was made in 1949. The gate arms remain as aluminum.
The 592 is packaged with a weight activated track trip (No. 697). With four binding posts (knurled nuts) the 1949 No. 592 can be connected for AC or DC locomotive operation. Later in the year the wiring is changed to a two binding post arrangement as the No. 697 track trip does not require special connection for the DC locomotives. Gilbert is thriftily using up the supply of four binding post bases. The basic structure of the gate is the same with a die cast metal base, sheet metal shed housing the solenoid and the light under the base that illuminates the lantern hanging from the lowered roadway gate.

The 592 is packaged in a corrugated carton with an insert to hold the gate in place during shipping. Included in the box is the No. 697 Track Trip and M2667 instruction sheet, wires and inspection voucher. The red and white shield label moves from the side to the end of the box.
American Flyer Accessory 592 Crossing Gate
The 1950 version has two binding posts and is a continuation of the 1949 two binding post version. Same packaging and contents except the M2667 instructions are replaced with M2667A. The A revision drops the references to DC connections.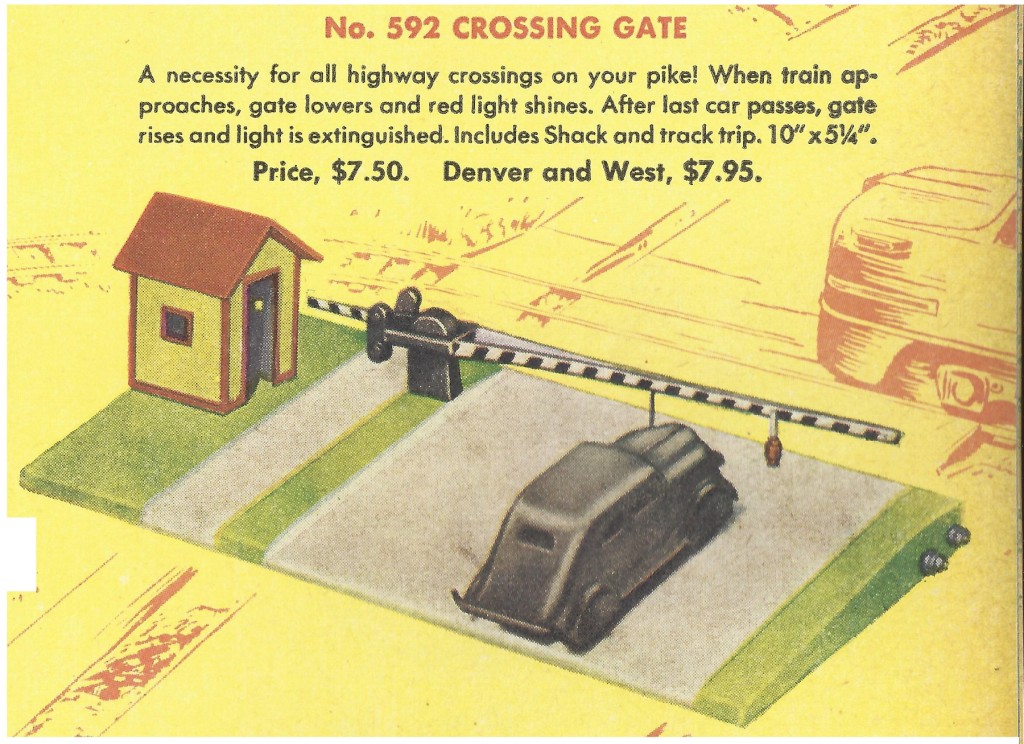 The box is still the corrugated type with cardboard insert to hold the crossing gate in position during shipping. The label (M2665) moved to the end of the box. Contents in addition to the gate include a No. 697 Track Trip, M2667 instruction sheet, wires and inspection voucher.
All of the above utilize the die cast roughly 5 inch by 10 inch base that provides sloping roadway and walkway from table top level to the level of the top of the track. The hut is the same design that is used in many of the accessories. There are several aspects to the design that make this accessory not fit the Gilbert American Flyer push for scale model operation. The crossing gate is positioned for the vehicles to be driving on the left side of the road. The edge of the base next to the track makes no provision for the sleepers resulting in a rather large gap between the rail and the base edge. There never was a part issued that would fit between the rails for the road surface. The paint colors vary during the life of the product with the green being the general green used for the bases of several American Flyer accessories, the road and walk ways are white, cream, or silver at times. Wide variations in the colors are observed due to use, fading and cleaning efforts.