American Flyer Crossing Gate 592A
From 1951 to 1953 the crossing gate was redesigned by Gilbert American Flyer to use a much smaller base. Several factors probably entered into this. In addition to the reduced cost of the die cast material in the base, the box changed to a colorful blue, yellow and white pasteboard design. The new design would require less layout space for smaller layout use. Shipping costs would be reduced as well due to the smaller size and weight. All of the changes would put the crossing gate accessory into a more competitive price range and potentially higher profit position.
American Flyer Accessory 592A Crossing Gate action still consisted of the pedestrian and vehicle gates lowering with a lantern arriving above a small hole in the pavement and appearing to light up with the gate in the down position. The roadway and walkway are narrower than the earlier large base gates and the crossing arms are correspondingly shorter.

The No. 697 Track Trip is still the source of operation. The knurled nut binding posts have been eliminated in favor of permanently connected wires.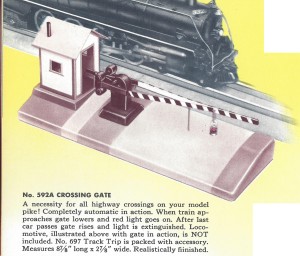 During the time period of production, the Korean War started and materials shortages and restrictions resulted in the base being converted away from metal. Bakelite and a kind of wood fiber composition material are known. This must have presented a challenge to the Gilbert engineers as the material had to provide enough weight to hold the accessory steady in spite of the vibration of the solenoid coil and to withstand the heat generated by the light bulb under the roadway. The Bakelite plastic is thermosetting (won't remelt when heated) so was a good choice, but continuing shortages or cost considerations may have required the continuing conversion to the composition material. However, many examples of these alternate material crossing gates show up with the paint peeled, since the plastic and composition surfaces required different treatments or different paints for stability.
American Flyer Accessory 592A Crossing Gate contents, in addition to the crossing gate, would include instruction sheet, No. 697 Track Trip, wires and inspection voucher.