American Flyer Action Caboose 977
Catalog Description
There's never been a car like it before in model railroading history – and it provides freight trains that have it with twice the realism. Each time train stops, trainman on rear platform leans out to check cars ahead. When train resumes run, he returns to his post. Lots of fun – and it's all automatic! 6″ long. Illuminated.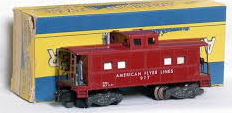 Cabooses were included on every train in the United States until the 1980's when the regulations were finally changed.  These movable apartments were essentially specialized apartments for train crews who were required for switching trains and for looking out for the trains cargo and equipment. Overtime they included cooking facilities and accommodations. In many cases, the cabooses were specific to the rail line and much like the different locomotives, had unique purposes. Gilbert attempted to model the wide variety of cabooses seen throughout the united states railroads.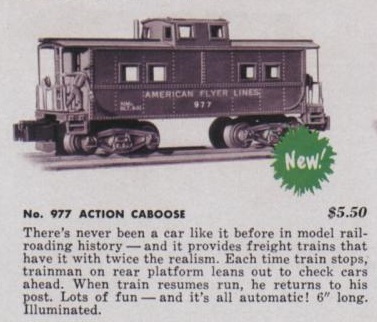 The American Flyer 977 Action Caboose was manufactured from 1955 to 1957 and included the brakeman as a feature.  The caboose was made from sheet metal and painted "Tuscan" red.  Illumination was also included as a feature.