American Flyer Locomotive 21005
The Gilbert Train Engine 21005 was made for one year in 1958 and was a switcher. The American Flyer Locomotive Switcher 0-6-0 would have had 0 leading, 6 driving, and 0 trailing wheels. There were 5 models of the Switcher 0-6-0 produced by Gilbert. The American Flyer 21005 Pennsylvania 0-6-0 Yard Switcher and Tender was a catalogued version from 1958. It came equipped with Pull-Mor traction tires on rear drivers, smoke and choo-choo in boiler, two-position reverse unit mounted on rear of motor, and disconnecting drawbar attached to the chassis.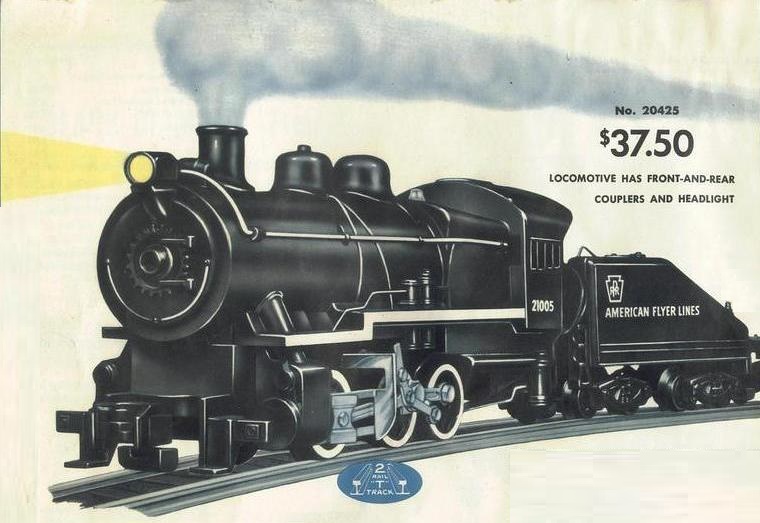 What is a Locomotive Switcher?
A switcher is a small train engine built for short distance hauling and moving rail cars around a freight yard. Essentially, they put the train together and then a large locomotive is brought in to haul the train to its destination. Switchers are also sometimes used to make short distance runs and pick up cars on branch lines. The typical switcher is optimized for its job, being relatively low-powered but with additional traction designed to get heavy cars rolling quickly. Switching is hard work, and heavily used switch engines wear out quickly from the abuse of constant hard contacts with cars and frequent starting and stopping.
The Gilbert Train Engine 21005 came as part of the Keystone Rocket Freight set. The set included a rocket car that launches a rocket in the air.
Error

File "/mnt/stor10-wc1-ord1/705738/840269/www.traindr.com/web/content//wp-content/uploads/2015/10/American-Flyer-Train-Sets-Consisting-of-Locomotive-21005.csv" does not exist.