American Flyer Locomotive 21089 Frontiersman
Catalog Description
The American Flyer 21089 0-4-0 "Frontiersman" Freight Locomotive and Tender. Colorful old wood burner of Civil War vintage, with authentic lettering and decorations. Puffs real Smoke.
The American Flyer Locomotive Old Timer 21089 Washington was an American 4-4-0. It would have had 4 leading, 4 driving, and 0 trailing wheels. The FY&P railroad was known as the the Franklin & Pittsylvania and was named for the area it served. Headquartered in Rocky Mount, Virginia it was mainly leased and operated by other railroads. The F&P was finished in 1880 and was a relatively late arrival as far as railroads go. The lease began in 1880 and was followed by many off and on years and the eventual demise of the line. Gilbert replicated the line with the Old Timer model known as the Washington. There were two color schemas blue and gold and green and red.
There were 3 models of the Old Timer produced. These included the following:
21088 Franklin
21089 Washington
Casey Jones
The Gilbert AF Train 21089 Washington Old Timer was made in 1960 and 1961.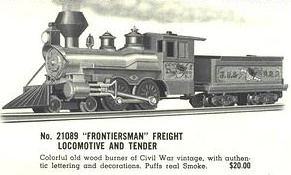 Error

File "/mnt/stor10-wc1-ord1/705738/840269/www.traindr.com/web/content//wp-content/uploads/2015/10/American-Flyer-Locomotive-21089-Production-Variations.csv" does not exist.