American Flyer Locomotive 350 Pacific Royal Blue
The first Gilbert American Flyer postwar Royal Blue train engine was produced in 1948 and came in set 48T called the Royal Blue Freight Train. The entry level set included 5 pieces of rolling stock. The 350 Pacific Locomotive and tender, a red box car, a green gondola and a caboose. Production date confirmation can also be determined by removing the mechanism from the locomotive shell and looking for the production date stamp.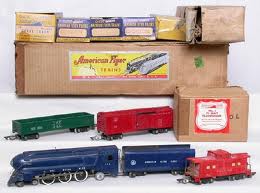 It is also thought that the cast in handrails were produced after the wire handrails as a cost reduction. The Gilbert American Flyer 48T set was a higher end starter set with a die cast metal pacific (4-6-2 wheel arrangement) locomotive. However, the locomotive did not have the Gilbert smoke and choo-choo features offered in other locomotives. The American Flyer Locomotive 350 Pacific Royal Blue was the continuation of the same locomotive offered prior to WW II in the 3/16″ths O gauge Gilbert American Flyer train line. The offerings prior to WW II included both blue and hammer tone gray paint colors and varying wheel arrangements. Postwar developments of the Gilbert American Flyer Royal Blue locomotive include wire handrails followed by cast in handrails. This locomotive was painted red and used in the American Flyer Circus set. The locomotive mold was converted for plastic and used in the American Flyer Locomotive 354 Silver Bullet and American Flyer Locomotive 356 Silver Bullet sets in both chrome plated and satin silver paint variations. The Royal Blue prototype was a streamlined Baltimore and Ohio passenger train that ran between New York and Washington, DC.