American Flyer Locomotive 372 Union Pacific GP 7 Diesel
American Flyer Locomotive 372 Union Pacific Catalog Description
New and colorful General Motors switcher locomotive with authentic Union Pacific R.R. gray-and-yellow markings. Can pull 40 or more cars; operates by remote control.
The American Flyer Locomotive 372 was produced from 1955 to 1957. American Flyer had three basic types of diesel trucks. Diesel naming convention moved away from the steam Whyte system and focused on Axels instead of wheels. GP7 trucks with two powered axles, PA/PB trucks with simulated three powered axles (also used on the EP-5 Electric style locomotive) and the Baldwin diesel trucks had two powered axles. The F9 may have simply used the Baldwin trucks. This would make the GP7 locomotives B-B type, the PA/PB and electric locomotives C-C type and the Baldwins, B-B type also. F9's probably B-B as well. There were 8 variations of the GP7.
wpDataTable with provided ID not found!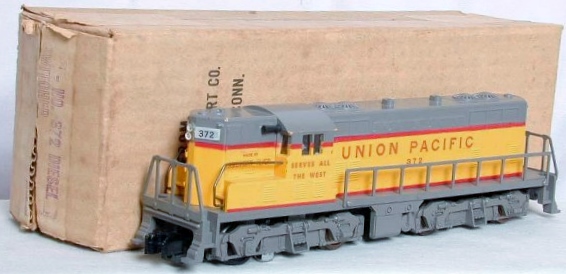 What is a Locomotive Switcher?
A switcher is a small train engine built for short distance hauling and moving rail cars around a freight yard. Essentially, they put the train together and then a large locomotive is brought in to haul the train to its destination. Switchers are also sometimes used to make short distance runs and pick up cars on branch lines. The typical switcher is optimized for its job, being relatively low-powered but with additional traction designed to get heavy cars rolling quickly. Switching is hard work, and heavily used switch engines wear out quickly from the abuse of constant hard contacts with cars and frequent starting and stopping.
Error

File "/mnt/stor10-wc1-ord1/705738/840269/www.traindr.com/web/content//wp-content/uploads/2015/08/American-Flyer-Locomotive-372-Union-Pacific-Production-Variations.csv" does not exist.