American Flyer Locomotive 466 Comet
Catalog Description
This big Diesel "growler" will handle your long freight drags with dispatch or make a speedy on-time passenger run. Powerful worm-drive motor assures realistic starting and stopping. Full remote control operation. Arctic blue-green and yellow on satin silver finish.
The American Flyer Locomotive 466 was produced from 1953 to 1955. The railroad was called the Silver Comet and was diesel locomotive. American Flyer had three basic types of diesel trucks. Diesel naming convention moved away from the steam Whyte system and focused on Axels instead of wheels. GP7 trucks with two powered axles, PA/PB trucks with simulated three powered axles (also used on the EP-5 Electric style locomotive) and the Baldwin diesel trucks had two powered axles. The F9 may have simply used the Baldwin trucks. This would make the GP7 locomotives B-B type, the PA/PB and electric locomotives C-C type and the Baldwins, B-B type also. F9's probably B-B as well. The 466 was of the PA/PB varietal of which Gilbert produced about 25 different locomotives.
The Silver Comet was a streamlined passenger train inaugurated on May 18, 1947, by the Seaboard Air Line Railroad (Seaboard Coast Line after merger with the Atlantic Coast Line on July 1, 1967). The train ran from New York to North Carolina until it was forced a slow demise during the late 1960's.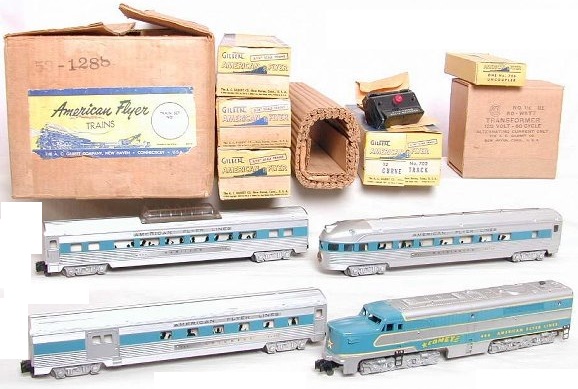 Error

File "/mnt/stor10-wc1-ord1/705738/840269/www.traindr.com/web/content//wp-content/uploads/2015/10/American-Flyer-Locomotive-466-Production-Variations.csv" does not exist.