American Flyer Baggage Smasher 23789 Parts List & Diagram
These are the installation instructions furnished by the A. C. Gilbert Co. to customers to aid them in the installation and operation of American Flyer equipment. Specifically, this bulletin is for the American Flyer Accessory 23789 Baggage Smasher Manual and Installation instructions.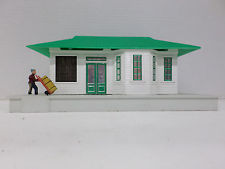 The American Flyer Accessory 23789 Station was manufactured in 1958 and 1959. It was originally model 789 but when Gilbert moved to a 5 digit numbering system it was changed. The baggage handler grabs luggage and smashes it while putting in the train making it one of the most realistic operating accessories manufactured. The accessory came with a push button to operate Billy the bag smasher who will come deliver the luggage to the train. Many sites seem to report that station is lit from the inside. However, this station was not lighted. The doors and windows are stickers applied to a solid plastic shell. The couple of attempts at lighting that I have seen resulted in a meltdown as there was no where for the heat from the incandescent bulb to go.
As with most Operating Accessories the Baggage Smasher 23789 requires connectivity with an American Flyer Transformer and wiring to the push button for operation.
Other American Flyer Operating Accessory stations:
American Flyer 755 Talking Station
American Flyer 766 Animated Station
American Flyer 789 Baggage Smasher Station
American Flyer 799 Automatic Talking Station