American Flyer Locomotive 21165 Parts List
This is the service bulletin furnished by the A. C. Gilbert Co. to authorized service stations to aid them in the service and repair of the American Flyer Locomotive 21165 Manual.
The American Flyer Locomotive 21165 was considered the American 4-4-0 type engine. The American Flyer Locomotive American 4-4-0 would have had 4 leading, 4 driving, and 0 trailing wheels. There were 9 other models of the American 4-4-0 produced by Gilbert.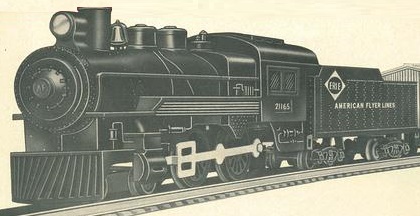 The American Flyer 21165 Erie 4-4-0 Steam Locomotive and Tender included the popular worm drive motor. In addition, the locomotive featured plastic construction, a 2-position reverse unit, a smoke stack, a decorative bell, metal side rods, and metal wheels. The tender was plastic with plastic trucks, a fixed knuckle coupler, and metal wheels and axles.
American Flyer Steam Locomotives, like the 21165, entirely used worm drive motors. The advantage of worm drive motors is that they allowed the model train to start slowly without being lurchy. Effectively a smoother start as the engineer provided power made for a more realistic toy train model experience. In addition, worm drive motors enable the locomotives to pull longer trains.