American Flyer Water Tank 596 Instructions
The American Flyer Water Tank 596 was designed to mimic actual water tanks that were used with steam locomotives. Produced from 1946 to 1956 there were many variations. In operation, the train pulls up, the operator presses a button and the spigot lowers simulating the refilling of the steam engine.The original American Flyer Accessory Water 596 came with a push button to connect to the accessory and the transformer. In addition, the beacon on top of the water tower would also light up when refilling.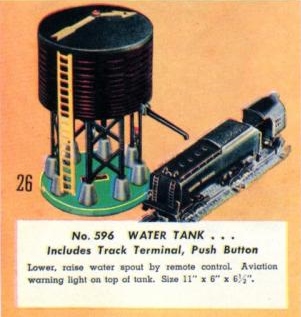 The American Flyer Water Tank 596 has a variety of differences of the years including: brown or burnt orange tank, gray or black legs, and a black or gray roof. Unlike many other operating accessories, it does not appear that there were many other types of American Flyer Water tanks manufactured.
These are the installation instructions furnished by the A. C. Gilbert Co. to customers to aid them in the installation and operation of American Flyer equipment. Specifically, this bulletin is for the American Flyer Water Tank 596 installation instructions.