American Flyer Single Span Bridge No. 1 and Trestle Bridge No .2
Both the No. 1 and No. 2 bridges were introduced to the 1938 Gilbert American Flyer train product line and show the beginning of the Gilbert influence on American Flyer by using Erector set parts.
No. 1 Trestle Bridge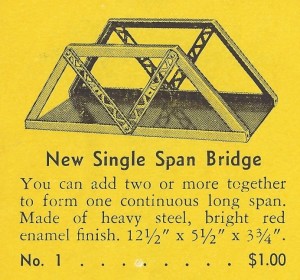 Gilbert included this smaller bridge in the 1938 catalog as it began to adapt the American Flyer product line to a Gilbert look and feel. The bridge is made from easy to construct sheet metal parts with a couple of Erector set parts included. The Erector parts help a simple bent sheet metal design by providing the look of girders. After assembly the whole American Flyer No. 1 bridge was painted the same red as the Erector set boxes.
No. 2 Trestle Bridge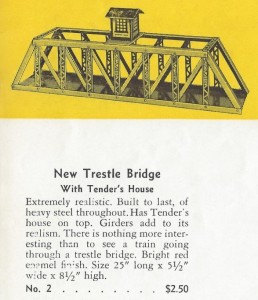 Also introduced in the 1938 Gilbert American Flyer catalog was the No. 2 Trestle Bridge with Tender's House. At 25 inches long this bridge would have required a large layout to not look ungainly. It was fabricated in a similar manner to the No. 1 bridge with folded sheet metal parts and Erector parts for a better look. Gilbert also added a bridge tender's house at the top. This is the same lithographed sheet metal form that was used in several American Flyer Manufacturing Company accessories. Interestingly it was introduced to the Erector set world at the same time. The Gilbert American Flyer No. 2 bridge was painted the same red as Gilbert Erector set boxes.