American Flyer Train Set 490T
Gilbert American Flyer made the American Flyer Train Set 490T for the first time in 1949. It was in the 1949 catalog and then issued again in 1950. The set represented a 3 car Atlantic freight train with a transformer and track that could make a small loop.

The set was offered in 1949 and 1950. It was a basic entry level set with cars lettered for AMERICAN FLYER rather than prototype road names. It looks like every effort was made to reduce cost while maintaining the image of Gilbert quality. The cars were molded in colored plastic so as not to require painting. The transformer is the minimum watt capacity capable of running one locomotive only. The locomotive is basic without smoke or choo-choo features. It does have a headlight putting it slightly above the basic competition sets and the locomotive is die cast metal for the image of quality. Basic circle of track and a manual uncoupler.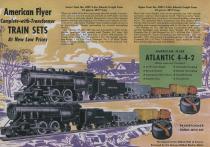 The American Flyer 490T set was great for an under the tree present but begging for additional track, bigger transformer, more cars, a station, switches, signals and the rest of the accessories. This set is kind of the beginning of a the move from the sales pitch of scale modeling to toy train. Lionel mastered this dichotomy with toy 0-27 sets while maintaining the scale idea with the O gauge line. Gilbert went from scale modeling to toy train and gave the scale modeling market to the HO scale trains. it drove the S scale modelers away and eventually put American Flyer in the market with the commodity toy train competition where they did not compete well.
Error

File "/mnt/stor10-wc1-ord1/705738/840269/www.traindr.com/web/content//wp-content/uploads/2015/10/American-Flyer-Train-Set-490T.csv" does not exist.