The Holiday Season has always been a focus of toy trains. In some families it was the time of year to put up the train set under the Christmas tree with a village or putz to add to the festive décor in the living room. In other families it was the time of year for a new piece of rolling stock, extra track or switches, or perhaps a whole new train set. In addition to the trains, miniature houses, trees, simulated snow, other toys and miniature people were added to the space under the tree to create an entire scenic display. American Flyer trains were well represented in these creations.
The holiday spirit was not lost on the stores that sold the toy trains. Many of them featured elaborate layouts in street windows or in the train department. Provided with lots of action and trains in operation, they were sure to inspire the imaginations of the families viewing them – and very likely to stimulate the purchase of some new equipment for the under the tree layout or for the youngsters as packages under the tree.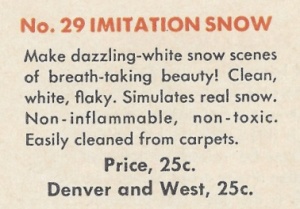 Gilbert issued a new catalog each year just before the holiday season. It announced the products  available for the year. Curiously the only products shown in Gilbert American Flyer catalogs that related to holiday layouts were some accessory bags of simulated snow. The No. 29 bag of snow was back on page 43 along with the grass, coal and ballast.
While the catalogs have many depictions of layouts and scenery, no winter scenes show up until the last year of production in 1966. The back of the catalog has a wonderful All Aboard system called the Winter Wonderland Special.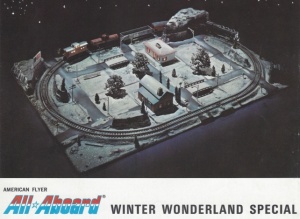 With its frosted look and the stars up above, the Gilbert American Flyer Winter Wonderland Special captures the look and feel of the season.
Happy Holidays from the TrainDR!  Hope you get the trains you want this year!